Restaurants are our first choice when we go out. Even when it's just when we just want to grab a bite since restaurant dining is a small celebrating experience on its own. However, while a cozy and elegant restaurant with amazing food can make for a nice dining experience, there are some restaurants in the world that make the dining experience just simply unforgettable for a lifetime with a quirky menu or unique, exotic atmosphere. Well, here are the top 10 unusual and strange restaurants that are weird and will make you speechless.
1) The Disaster Café, Lloret de Mar, Spain
Well, the name says it all, Disaster Café is an amazing restaurant with an excellent design and even a better idea, which is where you can experience Earthquakes while dining your meal. These simulated earthquakes occur with a 7.8 Richter scale, but you're completely safe!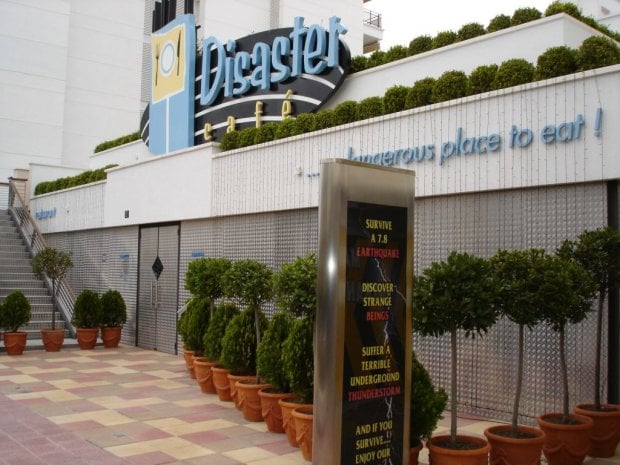 2) Ice Restaurant, United Arab Emirates
UAE is one of the most popular and exciting places for many reasons. And no wonder, there are some amazing skyscrapers and unique buildings with splendid architecture and design. Interestingly, there's a strange restaurant named Ice Restaurant, which is designed full of ice, even the interiors are covered with ice and illuminated to give a touch of opulence. It is one of the first of its kind of venture in the middle east. With the hot weather around, this dining experience is quite an awesome chilling experience. So while you visit, you might need to grab a coat or warmer clothing to keep yourself warm. We'll, it will surely stick to your memory.
3) Bird's Nest Restaurant, Soneva Kiri Eco Resort, Thailand
This restaurant is a unique one with actual tree pods and nests, which is 16 feet above the ground level with a spectacular view while dining. Its uniqueness and positioning convey a bird's nest. And to our surprise, the waiters will use a specially-designed zip line to deliver your meals and drinks. With an amazing view and privacy, it is something of a unique dining experience.
4) Ithaa Undersea Restaurant, Maldives
This restaurant is the world's first undersea restaurant, which is built 16 ft. (4.8 m) beneath the water, encased in a transparent acrylic roof, and it offers never-before-seen views of the surrounding coral reefs and sea creatures in the wonderful Maldives. Well, you need to reach it by walking down a spiral staircase and enjoy the fusion cuisine, but without kids, as this restaurant is just for adults.

5) Dinner in the Sky, Various Places
Who wouldn't want to dine in the sky? Or, did you ever think you could? Yes! Dinner in the sky where you enjoy your dinner atop the crane. You'll be strapped into a seat and suspended high into the air and the chefs around will prepare your meal and serve you. These kinds of restaurants can be found anywhere across the world. Well, a luxurious dining experience in the sky can be one of the most unforgettable moments.
Where: Dubai, Canada, etc.
6) New Lucky Restaurant, Ahmedabad, India
If your fantasy is to dine with the dead, then your wish is granted. Yes, there's this New Lucky Restaurant, in Ahmedabad, India, which caters to your meals beside the actual graves. The owner set up this New lucky restaurant in an old Muslim graveyard rather than disturbing the final resting place of the anonymous dead. Luckily, there have been no scenes or reports of ghost sightings till now in the New lucky restaurant. You can enjoy your meal with thrill and chill down your spine. May be worth a visit!
7) Heart Attack Grill, Las Vegas, USA
This unique hospital-themed restaurant named Heart Attack Grill in Las Vegas is where the food served to you might actually get you hospitalized! It's just because of this strange restaurant's tagline which is "taste worth dying for" and it conveys the same. Also, the waitresses are dressed as nurses who make you feel a bit better about digging into the food served. While customers are referred to as patients and their orders known as prescriptions is quite a bizarre idea but the restaurant really leans to convey the theme of giving a heart attack. What's the most interesting part is if any customers weigh more than 350 pounds, then you get free food!
8) Modern Toilet, Taipei City, Taiwan Province, China
The name in itself is a weird one, and here dining etiquette and bathroom etiquette are one and the same. This toilet-themed restaurant is designed with chequered tiles and showerheads. And the bizarre thing is the dishes are served in miniature toilet bowls, and you can spot plungers hanging from the ceiling and feces shaped lightings. The dining area has non-working toilet seats as tables. It's up to you to judge it positively or grossly. However, Modern Toilet Restaurant has become a chain with many locations across Asia.
9) Labassin Waterfall Restaurant, Villa Escudero, Philippines
If your fantasy is to eat while taking a foot bath, then look no further to experience that idea of fun in Labassin Waterfall Restaurant in the Philippines. Although it is just available for lunch, the buffet-style here serves an extensive range of extremely delicious food items with a touch of nature. It is situated beside a man-made waterfall which will let you delve into the flavorsome dishes as the water underneath will soothe your feet down. Well, who wouldn't mind getting wet when you're served so much on the platter.

10) O'Noir, Toronto, Canada
This restaurant is one of the world's first "dine in the dark" restaurants and it's a classic one. Here, all your senses become heightened while eyesight will be eliminated. Just when you think about torches, flashlights, or any other, these light-emitting things are prohibited inside the restaurant. After you order your food, you'll be taken into a dark black room and you've to dine in the complete pitch darkness. You never know what you're being served!
These are the unique and weird restaurants that offer fine dining, incredible views, and bizarre stories like no other. And since weird is one of the spices of life and the idea piques your curiosity level, then you must spice up your dining experience by venturing out to one of these strange and unusual restaurants around the world.