Chennai is booming with its IT companies, diversity culture is home to many shopping hotspots, and has become the commercial heart for tourists and visitors. We can experience different types of shopping centres from the local markets to emporiums, boutiques, and humongous malls. You can't take away the fun and satisfaction, while bargaining at these places. 
Although many of these places are located in crowded areas, where you may find it difficult to park your vehicle, No worries when you can avail of public transport services in the city. 
There are bound to be good shopping options in Namma Chennai. Check out the shopping places in Chennai to thrive for and unleash the shopper in you. 
11) T Nagar
T Nagar, where bustling crowds can be found in the narrow lanes of shops adjacent to each other. The place offers a sheer volume of emporium to small shops, from trendy clothes to footwear accessories, it is a one-stop-shop for all your needs. The place is famous for its silk sarees, gold jewelry, leather garments, and much more. 
Thyagaraya Nagar aka T Nagar is a home for stores like Saravana stores, Pothys, Nalli, and other handicraft stores. Ranganathan Street is often a crowded place right from the morning till late midnight. One can get exclusive offers and discounts during the festive season. The place truly caters to people from all walks of life.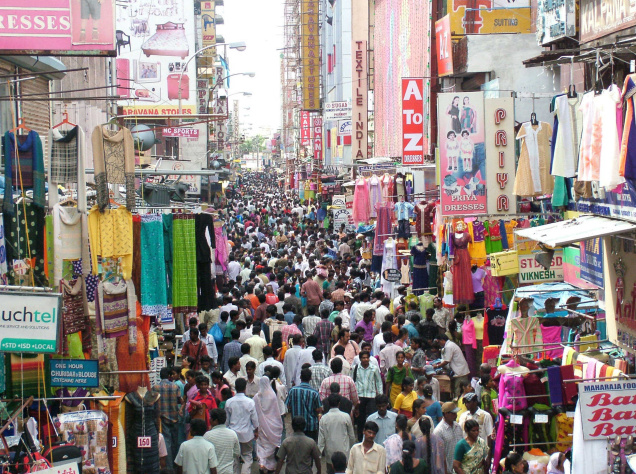 Specialty: handicrafts, Kanchipuram silk sarees, gold jewellery. 
Where: Ranganathan Street, T Nagar, Chennai.
10) Pondy Bazaar
One of the best markets in the heart of the city, the place is surreal for its trendy clothes, mobile accessories, and footwear. The place is home to many legendary shops like Naidu Hall and Rathna stores. Often this place is termed as the destination for college teens. This market located in the neighbourhood of T Nagar and got it's named as the mecca of all shopping 
Specialty: silver jewellery, women accessories, trendy clothes. 
Where: Parthasarathy Puram, T Nagar, Chennai. 
9) Sowcarpet
Sowcarpet 's mint Street is famous for its sweets, and dry fruits. From bangles to lehengas, everything can be found in this place. The place is often referred to as the mini Rajasthan of Chennai, where people can find all the north Indian crafts and designer clothes at a reasonable price. Nevertheless one can find good stuff within their budget. The shops are predominantly inhabited by North Indian people, one cannot have any problem conversing in Hindi or Tamil. 
Specialty: Dazzling garments to fabric materials, Rajasthani footwear. 
Where: Peddaniackenpet, George Town, Chennai. 
8) Besant Nagar
Besant Nagar is an upside exclusive neighborhood in South Chennai. It is one of the most happening calm places to visit for shopping because of its proximity to beaches. One can find bead stalls to dainty footwear to bohemian cotton clothes. In fact, the place is mini heaven for college students, women to shop for their favorite clothes. And a wide range of women boutiques has been opened with classy and chic designs, which would attract the millennials. 
Specialty: Comfy clothes to footwear accessories and bohemian wear. 
Where: near Elliot beach, Posh area, Besant Nagar, Chennai. 
7) Ritchie Street
Ritchie Street is the second largest electronic market in India for its grey type of unorganized electronic goods, similar to the Nehru market in Delhi. This place is a good place for every kind of electronic device from minute components to second-hand devices. The place offers a good bargain in the collection of devices. 
Specialty: second-hand devices, electronic goods at a cheap price. 
Where: Chitradepet, Chennai. 
6) Nungambakkam
Nungambakkam is known for its posh residential areas, is famous for its luxurious showrooms and big brands. It is home to global outlets like Adidas originals, Calvin Kelin to art galleries. 
Specialty: Designer clothing showrooms, art gallery, Malls like Gee Gee Plaza, Bergamo Mall.  
Where: Khader Nawaz Khan Road, Nungambakkam, Chennai. 
5) Burma Bazaar
Burma Bazaar is the oldest bazaar known for its cheap electronic goods, cheap fashion accessories. It is the go to go destination for its various types of low budget shopping items, situated in the hub of the central railway station. The place has many stores that sell cheap imported mobile phones, handsets, and footwear accessories. 
Speciality: Best TV and DVDs, cheap fashionable accessories.  
Where: Rajaji Road, Chennai. 
4) Anna Nagar
Anna Nagar is a residential hub for malls and complexes showcasing branded showrooms, Spas, clothing lines. The nightlife is a prime time for shopping in this area, which is a great place to visit for shopping and dining experience right from the big Malls to large complexes, it offers a great deal in their expertise. The famous VR Mall, which is the largest mall, is situated in Chennai's Anna Nagar West.
Specialty: women's clothing boutique multiplexes, branded footwear, and garments showrooms. 
Where: Anna Nagar Chennai 
3) Parry's Corner
Parry's corner proves to be the complete wholesale market in the crowded area. Selling almost everything right from the household utensils, fabrics, cycle parts to handicrafts, arts and plastic materials, and so on. Parry's corner is home to the largest vessel shop. You can spot people bargaining in almost every shop. An interesting thing about Parry's Corner is that each street specializes in a specific product. 
Specialty: Wholesale suppliers for plastic, vessels, and ornamental accessories. 
Where: NSC Bose Road Intersection of North Beach Road, Chennai India. 
2) Pantheon Road
Pantheon Road is also known by the name as 'Cotton Street', famous for its cotton fabric supplies to various places. The vendors here are chirpy and friendly with the customer helping them, getting things as per their choice. The place is always crowded by a bunch of college girls and ladies to get their collection of cotton suits, salwar kameez, and so on.
Specialty: a collection of cotton fabric materials. 
Where: Near Ethiraj Women's College, Egmore. 
1) Spencer Plaza
Once upon a time, Spencer Plaza was the only mall in Chennai. It is one of the oldest malls in Chennai, where you can avail things like shoes, clothing, watches, pashminas and many others. 
Specialty: Soft Pashminas. 
Where: Anna Salai  Chennai. 
There are various other humongous malls in Chennai, where you can spot a huge crowd of millennials. The city has seen a lot of modernization over the decade and everything has been upgraded. 
Meanwhile, Chennai offers an exceptional shopping experience. Make sure to visit the above place to witness the busiest streets of Chennai.